---
Summer is almost here and it's time to make fun memories with your dog.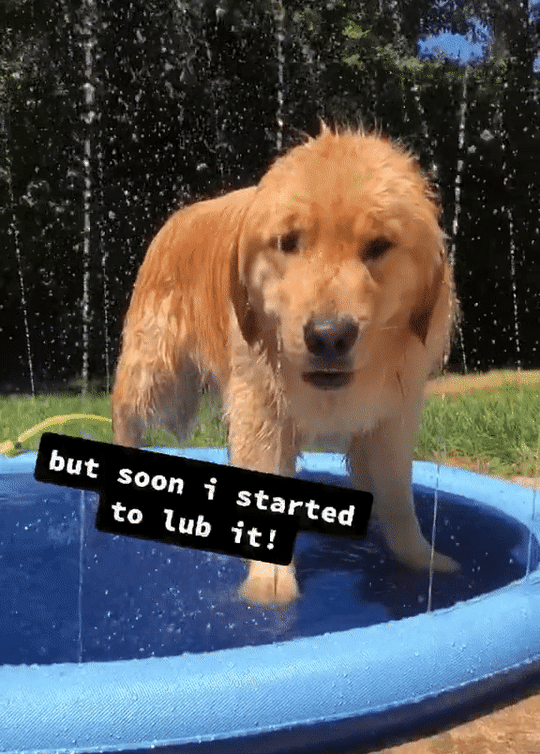 Water fun for Dogs (and Kids): This is a fun water sprinkler for your dogs and kids, combined with the best parts of a kiddie pool, water slip n slide, and water toys to make the most entertaining spray pad on the market and a great alternative to your traditional swimming pool. Why not take a dip in this cool pool, get relief from the heat in hot summer. Everybody will be excited to play in the sprinkle and spray.
Safe and Durable: Safety is our top priority. This Dog Splash Sprinkler Pad is made of environmental PVC material, non-slip and free from BPA and plasticizers, safe for daily use. 0.45mm thickness is 30% thicker than other splash pad, while high-quality edge sealing technology makes it difficult to burst
67" Large Size Water Park: The 67inch splash pad for dogs and kids is spacious enough for 2-3 kids with your dogs. Also, Babies and pets can play in this outdoor sprinkler pad at the same time. A perfect outdoor toy for dogs & children parties this summer that can entertain your dogs and kids at once. Suitable for lawns, gardens, swimming pools, parties, or celebrations, birthday gifts, outdoor beach lawn toys, and summer pool parties.
Easy to Set Up and Storage: Plug it into any garden hose or PVC tubing and you will get a blow-up pool, simply adjust the water pressure to control the height of water streams, when you're done, easily drain the water, wash the splash mat and hang it over to dry.
Lightweight & Portable: This splash pool can be folded up, easy to transport, easy to store and you can bring it with you and your dog/pets everywhere.
Warm Tips: Please trim your pets' nails before using this water pad. recommended for kids over 12 months. Children must be accompanied by adults. Inject the water slowly and gently to fullness, If you have any questions about this sprinkler pad, please feel free to contact us.
That's why our Dog Splash Sprinkler Pad in 1 Dog - is the best solution for hot summer days! Get yours now while stock lasts.
Pheromones are chemical messengers that have a physical or emotional effect on the opposite sex. Pheromones work on a subconscious level. You don't notice the smell, but you feel the effects, which can include:
- Being more sexually attractive to the opposite sex
- Increased confidence
- More passion in the bedroom
- Making the opposite sex more comfortable around you
- More respect from members of the same sex
A pheromone is a secreted or excreted chemical factor that
triggers a social response in members of the same species. Pheromones are chemicals capable of acting like hormones outside the body of the secreting individual, to affect the behavior of the receiving
individuals.
An application on your pulse points lasts about 6 hours.
Pheromone Oil isn't just for a occasion, its a lifestyle. Apply once during day and once at night for the ultimate effect. Watch as the people around you start become more friendly, and that guy you like start to notice something different about you!
Vegan
Our oil is natural & plant-derived
Precautions
This product is for external use only
Use with caution on sensitive skin
Not recommended for people allergic to alcohol and pregnant women
In case of accidental drop in eyes, please wash immediately
Please keep it out of the reach of children

Shelf life
Five years

Storage method
Please place in a cool and ventilated place, avoid direct sunlight and high temperature